Grinding a Machine Taper Using an Angle Grinder
The demonstrator received a gift, a keyless drill chuck, but the problem was it has larger taper size than the inline drill machine head, so to put this good drill chuck to use he came up with an interesting idea.
He used a 16-millimetre stainless steel rod and attached it with a wheel grinder. To make the rod taper on end, he used an angle grinder which allowed the keyless drill chuck to get a proper fit on the rod.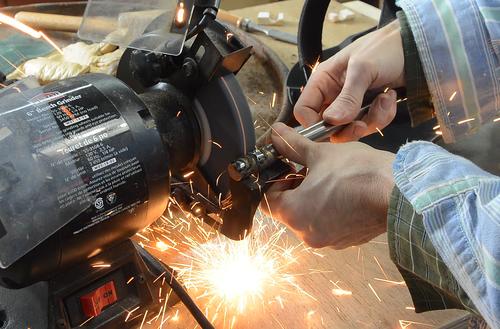 Later the demonstrator shows how he is going to use this contraption for making door knobs from a woodblock. This keyless drill chuck is ideal for holding wooden objects well, as they are trimmed spinning at high speed.
This tutorial can be used as the starting point of building your own drill press but completing a drill press project would be very complicated and may not worth the effort and time as you can buy a very powerful drill press quite cheap nowadays.